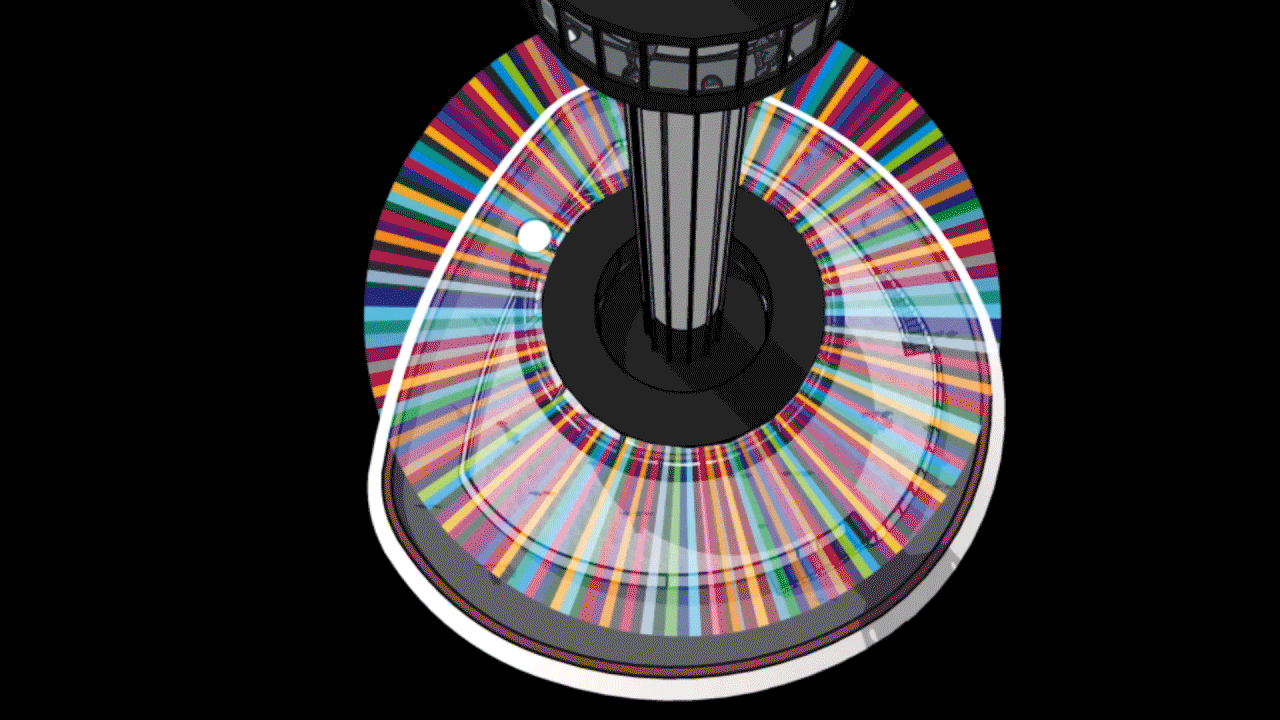 The most colourful view of Europe
At the famous Euromast viewing tower in Rotterdam, visitors from all over Europe and the world come together. The Euromast is the perfect place to experience the colourful and diverse spirit of this vibrant city and explore Rotterdam's identity. The most exciting part of the Euromast is the Euroscoop ride, taking visitors up to 185 meters in a rotating motion. NorthernLight completely redesigned this ride and the surrounding experience to make it reflect the colourful and diverse identity of Rotterdam. We also developed a totally new visual concept for the overarching experience: "Colourful Rotterdam: a journey from ME to WE".
The new Euroscoop is like a colour-scope, reflecting all colours and languages of Rotterdam. The experience is about inspiring the visitors and taking them on a journey from their own ME-perspective to a WE-feeling about the city, Europe and beyond. Arriving to the Euromast deck, one will immediately see the colourful lamellas, changing the visitors perspective from ME to WE, whilst walking along. Visitors can find colourful quotes in the most spoken languages of Rotterdam. The Euroscoop ride is the absolute climax of this journey: beyond the individual and beyond the moment. At lift off visitors experience an uplifting soundscape by famous Rotterdam DJ Oliver Heldens, together with immersive colourful LED light effects. Visitors get their "feet up off the ground" and once the Euroscoop is in mid air, a multi language urban poem starts to inspire and educate visitors about the vibrant city of Rotterdam. Going down, visitors will see the city and its stories in a different, more colourful light.
Colours speak all languages
What started in the 60s, when Euromast was built, as a visionary panorama of a new Europe nowadays reflects a colourful city with people of 170 nationalities. By reflecting on the heritage of Euromast as well as on the city surrounding it, we are making it a more meaningful experience. Integrating thoughts of inclusion and diversity into a touristic attraction. Rotterdam is a multicultural city with a raw and urban vibe. In Rotterdam, the colours of Europe come together. Here, Europe's motto "United in diversity" truly comes alive. If ''I Amsterdam'' is the tag line of Amsterdam, ''WE Rotterdam'' should be the tag line of Rotterdam.
Client: Euromast Rotterdam — Agency: NorthernLight Amsterdam — Spatial Design: Hagen Mumm — Light Design: Marc Heinz — Sound Design: Dennis Slot — Voice-Over: Big Orange— Production: Bruns — Light installation: Ata-Tech — Photos:

 Euromast